In a strange twist this week, SE Asphalt published an air quality comparison showing the impact of its proposed hot mix asphalt (HMA) plant within the 4.3 square mile community of East Flat Rock. Attempting to compare their projected emissions to the all of the cars, trucks, and SUVs already owned by residents and driven in our community, they neglected to mention one small detail: those toxic emissions will be in addition to those produced by vehicles.
In the process of making that comparison, they admit the proposed plant will emit:
3.9% of the Hydrocarbons (a polite way to say "toxic air pollutants"),

1.1% of the Carbon Monoxide, and

6.9% of the Nitrogen Oxides in East Flat Rock.
That's right… one man's business will add another 4-7% of air pollution to the area.
SE Asphalt's HMA plant will be the single largest source of air pollution in East Flat Rock.
Imagine hundreds of cars sitting in a parking lot on that property, revving continuously for hours and hours. That's what SE Asphalt says it will be like to live next door to this plant.
If you can't yet imagine what that will be like, just listen to John Mason, a cattle farmer who lives next door to the Roger's Group asphalt plant near the Grimesdale community.
John, who raises Belted Galloway cattle on property handed down for generations, sent us this photo on Tuesday, August 18 of the Rogers plant in operation while he was mowing his far field.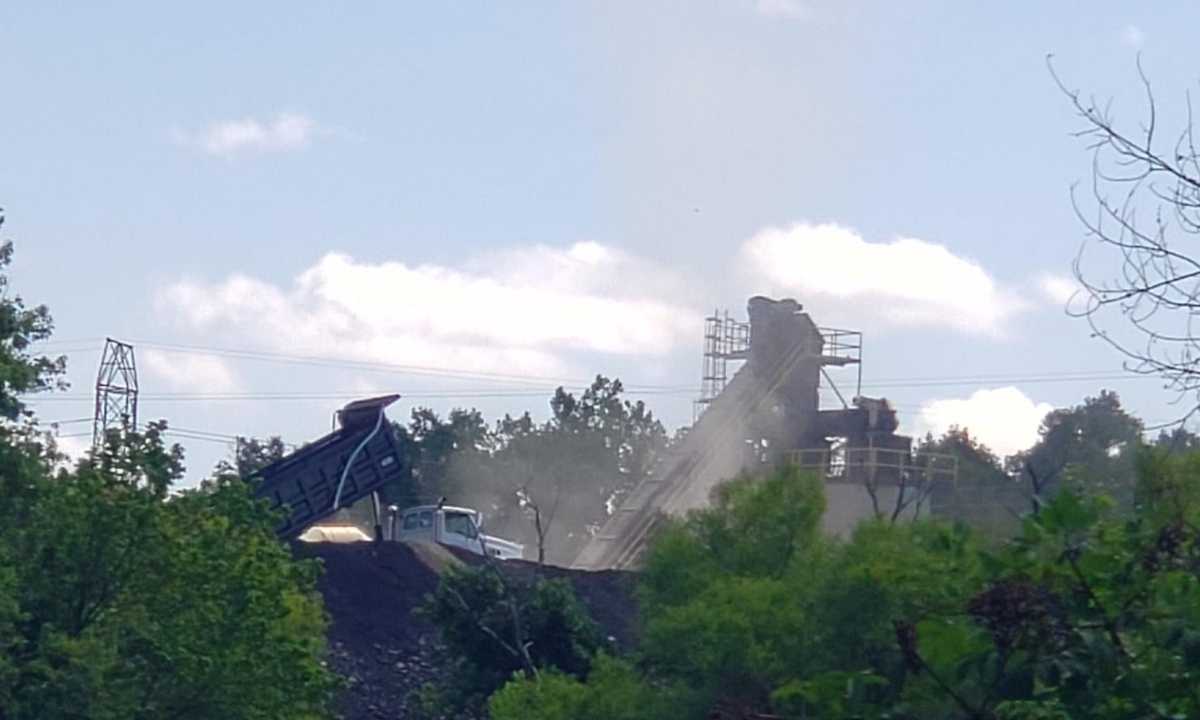 John can no longer see the plant from his house because of the huge mountain of asphalt aggregates piled between the plant and his property, but he can still smell it and hear it.
Asphalt plants aren't good neighbors.
Surprisingly, John says the it's not just the smell and noise that makes an asphalt plant such a bad neighbor, it's also the light pollution.
"I can document they run 85% at night, not during the day. They crank up about 5:00 to 5:30 in the afternoon, they run all night long, and they shut down about 7:30 in the morning. So, used to, we could leave our windows open at night. We can't – not only for the smell and noise – but also for the light. Uh, they put these, and they have to, they've got to uplight. They put these big lights up so they can run their machinery and so the workers don't get injured – and I'm all for that. And I don't want anybody to be hurt, but we had to put window darkening shades in our front room so we could sleep at night. Other than that, you could, it was just like being in daylight. The lights are so bright when the leaves are not on the trees."
Asphalt plants don't belong in neighborhoods.
Speaking from personal experience, John also has something to say about where asphalt plants belong and where they don't.
"I'm not against construction. I'm not against things growing. But there's a right and a wrong place to put any kind of business. Asphalt plants, concrete plants, and those kinds of plants need to be in industrial parks where other major businesses are surrounding them."
The proposed site is currently zoned Community Commercial and allows for residential and commercial uses, such as office buildings and retail sales and services. By right, asphalt plants are not currently permitted in Community Commercial zones and special conditional rezoning must be obtained in order to build a heavy industrial plant in such close proximity to neighborhood homes, schools, and churches.
Approving a rezoning application to change the zoning to allow for an industrial plant in a non-industrial zoned residential area sets a dangerous precedent that paves the way for other zoned areas to be changed at will.